Below are some of the log file locations which DBAs may need to access quite frequently in R12.2.
Green color boxes indicates location where log files are.
---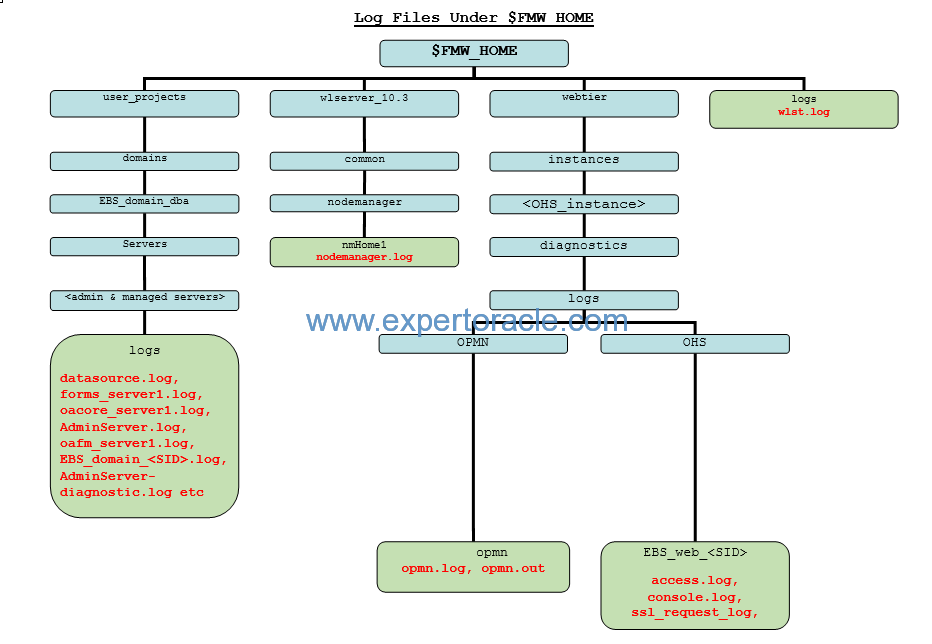 ---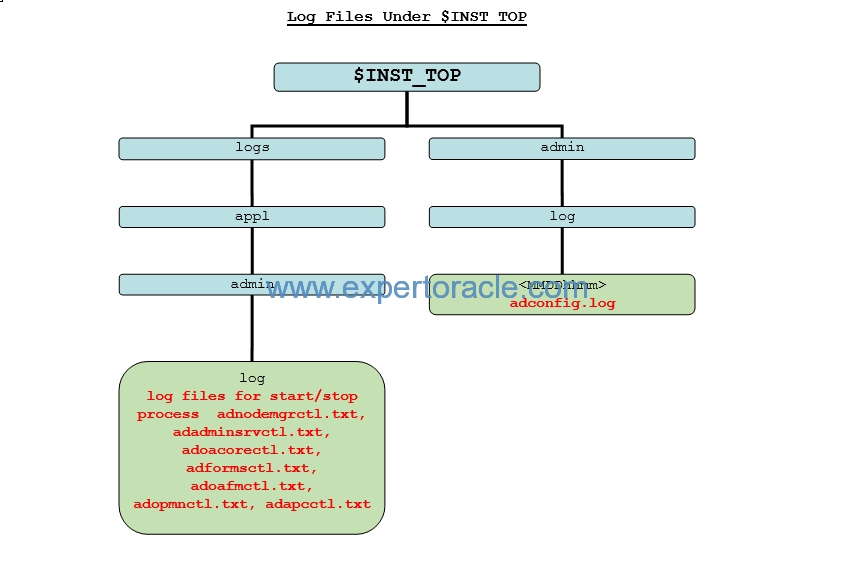 ---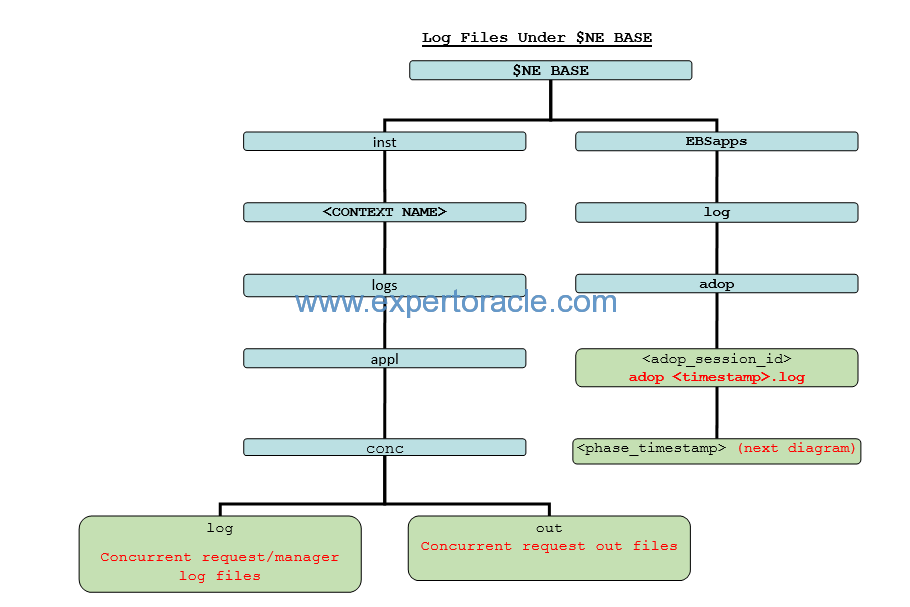 ---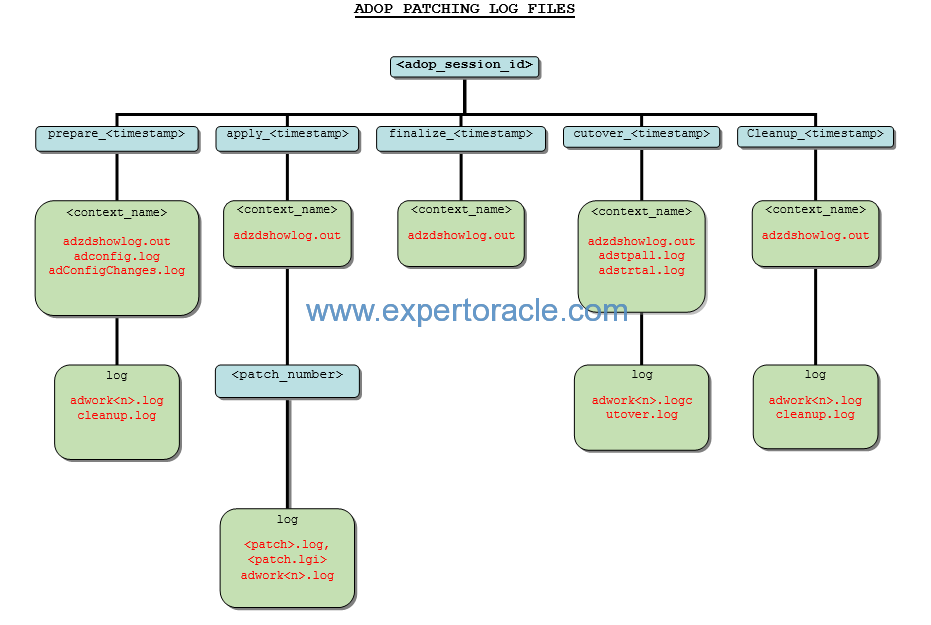 ---
Log files file Online patching (adop)
The adop log files are located on the non-editioned file system (fs_ne), under:
$NE_BASE/EBSapps/log/adop/<adop_session_id>/<phase>_<date>_<time>/<context_name>/log
This log directory will contain patch logs, patch worker logs and other patch related log files created for specific purposes
Also, some patch tasks may create separate log files in the same directory.
Online pathcing filesystem cloning process related log files are found under:
$INST_TOP/admin/log
Log files for Autoconfig process
On Applicaion Tier: $INST_TOP/admin/log/<MMDDhhmm>
On Database Tier: $ORACLE_HOME/appsutil/log/<CONTEXT_NAME>/<MMDDhhmm>
Log files for start/stop of services from $ADMIN_SCRIPTS_HOME
In below directory you will find log files related to start/stop process of oacore, forms, apache, opmn, weblogic admin server/node manager:
$LOG_HOME/appl/admin/log
Log/Out files for Concurrent programs/managers
The path is defined by same variables that we used earlier for 11i/R12.1 . Log/Out files are stored in Non-Editioned filesystem.
Log files: $APPLCSF/$APPLLOG (or $NE_BASE/inst/<CONTEXT_NAME>/logs/appl/conc/log)
Out files: $APPLCSF/$APPLOUT (or $NE_BASE/inst/<CONTEXT_NAME>/logs/appl/conc/out)
Log files for OPMN and OHS processes
Below directory contains log files related OPMN process(opmn.log), OPMN Debug logs(debug.log), HTTP Transaction logs (access.log), security settings related logs.
$IAS_ORACLE_HOME/instances/<ohs_instance>/diagnostics/logs
Log file for Weblogic Node Manager
Log file is generated by Node Manager and contains data for all domains that are controlled by Node Manager on a given physical machine.
$FMW_HOME/wlserver_10.3/common/nodemanager/nmHome1/nodemanager.log
Log file for Weblogic Oracle Management Service log file
Initial settings AdminServer and Domain level information is written in this log file
$EBS_DOMAIN_HOME/sysman/log
Log files for server processes initiated through Weblogic
Stdout and stderr messages generated by the server instance (server instnaces like forms, oafm, oacore etc) at NOTICE severity level or higher are written by Weblogic Node Manager to below directory.
$EBS_DOMAIN_HOME/servers/<server_name>/logs/<server_name>.out
[Post Views: 16473]
I'm an experienced Oracle Applications DBA with more than a decade of full-time DBA experience. I have gained a wide knowledge of the Oracle software stack and have worked on several big projects for multi-national companies. I enjoy working with the leading-edge technology and have passion for database performance and stability. Thankfully my work allows me time for researching new technologies (and to write about them).
You can connect with me on
LinkedIn.
Latest posts by Brijesh Gogia (see all)