Sometimes while using IE8 Browser you may get the below error instead of the login page
 'Unable To Authenticate Session"
You may see such issue on IE9 also.
Possible Solution 1 : One solution which is documented in the Oracle note id can help ( R12: Using IE8 to access two EBS Instances runs in error "Unable To Authenticate Session" [ID 1098563.1])
According to it , the  new 'Session Merging' feature within IE8 and IE9 is creating the issue and can be easily tackled by adding                   -noframemerging parameter.
Right click on your IE icon and add -noframemerging to the end of the link in the Target field e.g."C:\Program Files\Internet Explorer\iexplore.exe" -noframemerging (shown below)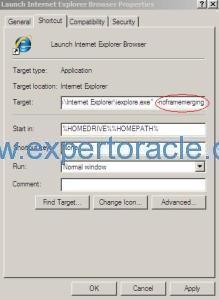 Possible Solution 2 : Clearing the Cache helped me many times in getting through these errors while working on EBS with  IE browsers.
A) Go to Tools >Internet Options > Click on delete browsing Cache (shown below)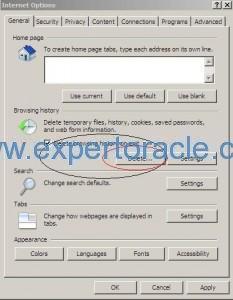 B) Go to Start > Control Panel > Java >  Settings > Delete temp files > OK (shown below)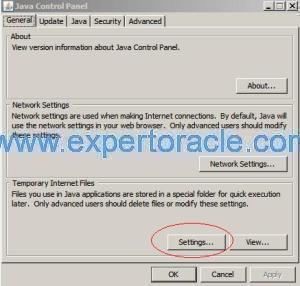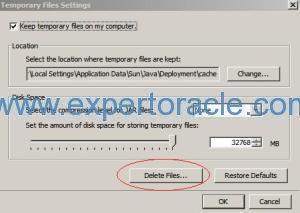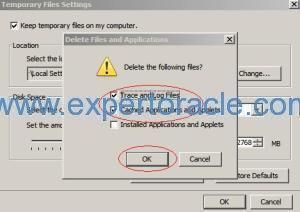 After clearing the cache, Close the browser, start again and try opening the EBS link.
[Post Views: 8828]
I'm an experienced Oracle Applications DBA with more than a decade of full-time DBA experience. I have gained a wide knowledge of the Oracle software stack and have worked on several big projects for multi-national companies. I enjoy working with the leading-edge technology and have passion for database performance and stability. Thankfully my work allows me time for researching new technologies (and to write about them).
You can connect with me on
LinkedIn.
Latest posts by Brijesh Gogia (see all)